WHERE WE ARE:

Private dental practice dr. Patricia Marčetić, DMD is located in Oranice, Pavlenski put 7, 10 000 Zagreb.
It is easy to get to us, whether you choose to take public transport(tram 17 in the direction of Prečko, bus lines by ZET 134 Črnomerec – Prečko and 115 Ljubljanica – Prečko) or your own car (there is a free parking lotin front of the office).
THE TEAM THAT WILL TAKE CARE OF YOU:

Our core team consists of dr. Patricia Marčetić, DMD, MSc, and dental technicians and assistants Violeta JozićBrezak, BEcon i Ana Novina Škreblin.
At our dental office we try hard to make people feel comfortable, relaxed and safe. We will do our best to provide you with the high quality service.
Our small team is completed by orthodontic specialists and surgeonsand two dental laboratories, which means all dental services are available at this modern, polyvalent dental medicine office.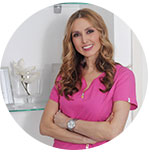 Our doctor is a perfectionist and aestheticist who does not like her patients to be in pain. She explains extensively to make sure You are relaxed, free of fear, and aware that she will do her best to make You leave the office with the smile that you have always wished for.
After finishing high school for dental technicians, Patricia graduated from the School of Dental Medicine, University of Zagreb. While still at college, she worked as a dental assistant in renowned dental clinics in Zagreb, gradually orienting herself towards minimally invasive and aesthetic dentistry. After completing the internship at the Medical Center Trešnjevka II and the School of Dental Medicine at the University of Zagreb, she spent four years working as a replacement at the local dental officeat Borovje Outpatient Medical Center. She completed her master's degree in the field of biomedicine and dental medicine at the School of Dental Medicine, University of Zagreb and was awarded the title Master of Science in Biomedicine and Dental Medicine. Over the next few years she worked in one of the most eminent private dental clinics in Zagreb which specializes primarily in aesthetic dentistry. Regularly attending home and international seminars and conferences, the doctor acquired theoretical and practical knowledge in 3D implantology and dermal fillers. She is a member of The Croatian Medical Association, ESCD (European Society of Cosmetic Dentistry) and CAADM(Croatian Academy of Aesthetic Dental Medicine). She is fluent in English and can also use Italian and German. After working for 15 years, she became the manager and founder of her own private dental practice which opened in January, 2013.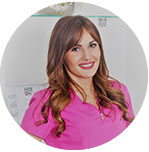 Apart from taking care of You and occasionally standing at Your left side as Ana, Violeta also works as a manager of our practice.
She will probably be the one to set your appointments, do accounting and, as well as the doctor, be at Your disposal for questions and advice. You will usually communicate with her via telephone, e-mail and social networks.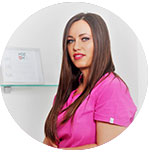 Usually she will be standing at Your left side, taking care of You, and helping the doctor while working. She will take photos of You before and after the procedure to capture your happy smile.
 MORE ABOUT US:

We have been working together for a long time so one could say that we are more like a family than a professional team. We are not uptight and we try to approach patients in both a professional and  relaxed manner at the same time because we want them to feel relaxed and safe as well.
Basically, what we are striving for is to make our dental practice a place where patientsfeel no pain and no fear.
OUR GOAL:

Our goal is to achieve a natural, functional and aesthetically perfect result in a pleasant, painless and minimally invasive way.
OUR MOTTO:

Your satisfaction, Your healthy, happy and beautiful smile are our sole mission.
|  Opening hours
MON, WED, FRI 9:00-16:00
TUE, THU 13:30-20:30
---
☎ +385(0)1 4822 137
Make your appointment or send us an inquiry!