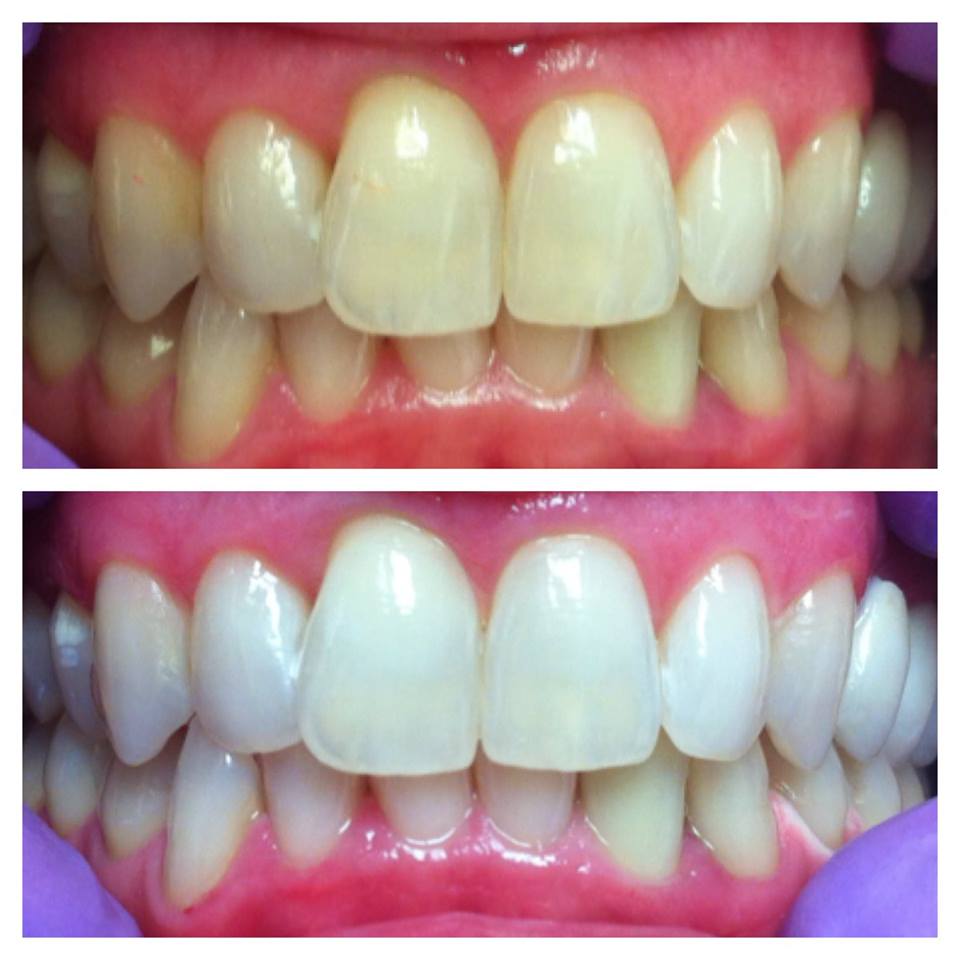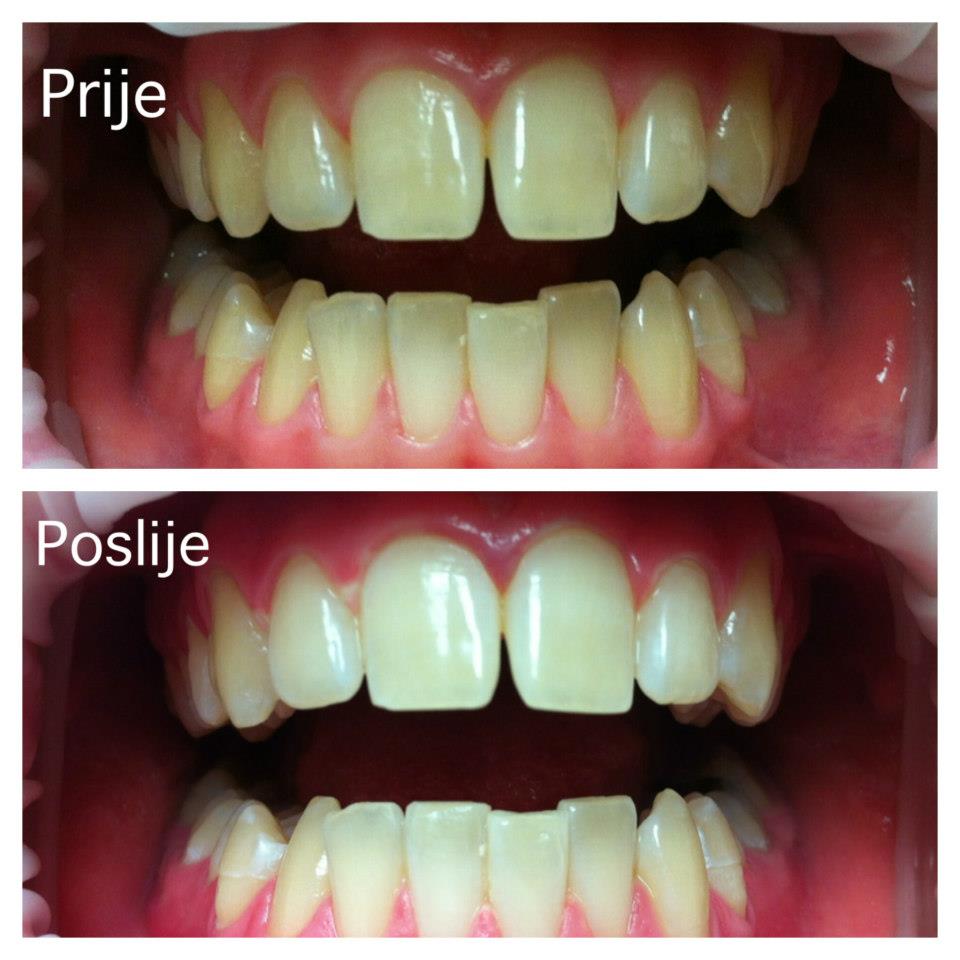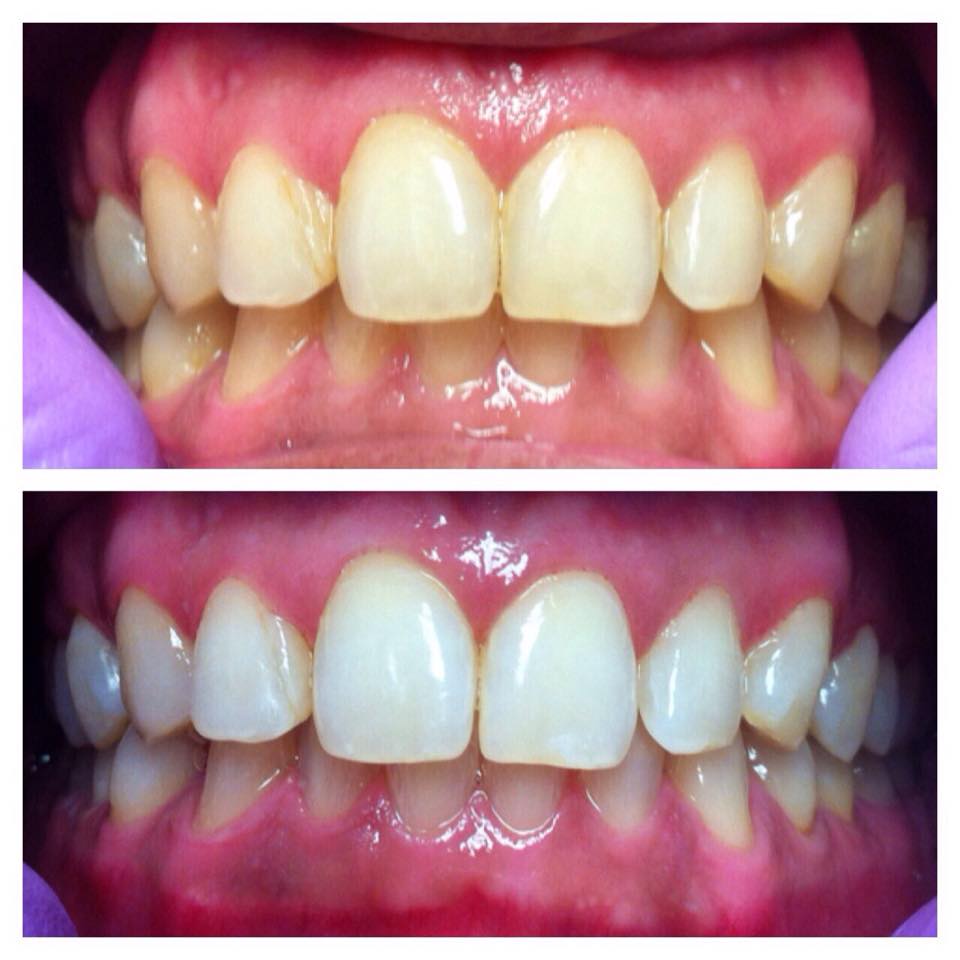 What is teeth whitening?

Teeth whitening is a cosmetic-aesthetic procedure used to make your teeth whiter than they have ever been.
It is the least invasive, and at the same time a safe and successful way to get a brighter smile.
Why do teeth go dark over time?

A bright smile has always drawn attention. However, the whiteness of our teeth gradually disappears due to teeth's natural aging process. The outer layer of the teeth (the tooth enamel) which gives the teeth their whiteness, becomes thinner over time. This allows the underlying layer (which is yellow and is called dentin) to shine through. Consuming foods and drinks with intensive dark pigments (e.g. beetroot, blueberries, red wine, coffee, dark tea and soda) and especially smoking, can make the problem even worse.
If you want to find out more about teeth whitening and whether you are a good candidate for it, fill out the online questionnaire..
What is the procedure for teeth whitening?
After the initial examination and diagnostics, we primarily determine whether you are viable for teeth whitening and we start with professional calculus removal and teeth polishing.
In the next step we cover the gums with a protective barrier and apply a whitening gel to the teeth in the visible segment. The gel that we use is hydrogen peroxide-based.
How long does the procedure take?

Teeth whitening requires one treatment in which a whitening gel is applied to the surface of the teeth three times, each cycle lasting 15 minutes. The whole treatment including the calculus removal lasts one and a half hours.
Will teeth whitening damage your teeth?

The treatment is simple, non-invasive and painless. The whitening gel that we use does not require an additional light source, does not damage tooth structure and does not cause tooth hypersensitivity.
How white will Your teeth go and how long will the results last?

The result of the teeth whitening treatment is individual and depends on numerous factors. However, the new colour of your teeth will be minimally 2-3 shades lighter than your natural tooth colour. The result is partially visible immediately after the treatment, while the real result becomes visible in 2-3 days.
How long the result will last depends on your lifestyle habits. Smoking and consuming large amounts of coffee or dark tea every day will make Your teeth darken a lot quicker. So, in order to preserve the new colour of your teeth, it is important to maintain regular and proper oral hygiene, use dental floss, have calculus removed and Your teeth polished regularly (every 6-12 months).
Can prosthetic restorations and fillings be whitened as well?

Only natural teeth can be whitened. Dental fillings and prosthetic restorations (veneers, crowns, bridges…) cannot be whitened. Sometimes old restorations appear to be whitened because the layers of pigments are removed in the whitening process causing some thinner fillings to look brighter due to the whitened dentin shining through underneath.
What is the age limit for teeth whitening?

Teeth whitening is not recommended for persons under 16 years of age because the pulp chamber that contains blood vessels and nerves is larger and closer to the tooth surface than with older people, so there is greater risk of pulp irritation. There is no upper age limit for teeth whitening.
What to do after teeth whitening?

In case of hypersensitive tooth tissue on one or more teeth, it is possible to feel a light pain on those teeth. That pain is normal and can be felt only on the day when the whitening is performed. Using our whitening gel and method, there is no risk of developing permanent dentin hypersensitivity.
48 hours after the whitening treatment it is not recommended to smoke and consume intensive-coloured foods and drinks.
Why choose to have your teeth whitened in OUR practice?

We have 17 years of experience in using various methods of teeth whitening.

We try to make you feel comfortable and relaxed in our practice,without any fear.

We respect your wishes relating to the health and beauty of your future smile and try to fulfil them completely.

Our goal is to make your smile functional and aesthetically perfect.

We use the highest quality whitening gel in our practice.

The work in your mouth will be painless and safe, we will do our best to make it as comfortable as possible and our service as good.

Your "before and after" photos of the whitening treatment will be preserved.

At any moment we are available to you for advice and consultation via mobile phone, e-mail and social media.

We try to keep our appointments.

You can pay in cash, but also in interest free instalments: American Express up to 12 instalments, Diners up to 6 instalments, Erste & Steiermärkische bank Maestro and MasterCard up to 12 instalments.

There is free parking in front of the practice.
If we meet your criteria, feel free to contact us and make an appointment.
If these pages do not provide you with an answer to your question on teeth whitening, dental health and dental services, feel free to contact us.
We are at your disposal!
|  Radno vrijeme
PON, SRI, PET 9:00-16:00
UTO, ČET 13:30-20:30
---
☎ +385(0)1 4822 137
Rezerviraj svoj termin ili pošalji upit!